According to the Merriam-Webster dictionary, insurance is "a coverage by contract whereby one party undertakes to guarantee or indemnify another against loss by a specified peril or contingency." In other words, insurance can be your form of guarantee if something happens to you.
Admit it. Insurance may be the last thing on your mind right now. With the expenses back home and the pressure to save for the rainy days, getting an insurance is not your priority. Believe it or not, there is a facility called Agency-Hired OFW Compulsory Insurance (OCI) and here's what you need to know about it:
1. Also known as Compulsory Insurance Coverage for Agency-Hired Migrant Workers, this facility is made available by law in order to provide protection in the form of insurance to Overseas Filipino Workers.
2. This insurance coverage is mandatory for all agency-hired OFWs or OFWs who availed of the service of a recruitment agency authorized by the Department of Labor and Employment. An Overseas Employment Certificate (OEW) will not be issued without an insurance proof cover. Nonetheless, re-hired, direct-hired, and name-hired OFWs can avail of insurance coverage.
3. There is no need for you to apply for this type of insurance. Your recruitment agency applies this kind of insurance coverage on your behalf.
4. Below are the benefits you can avail of if you have Agency-Hired OCI: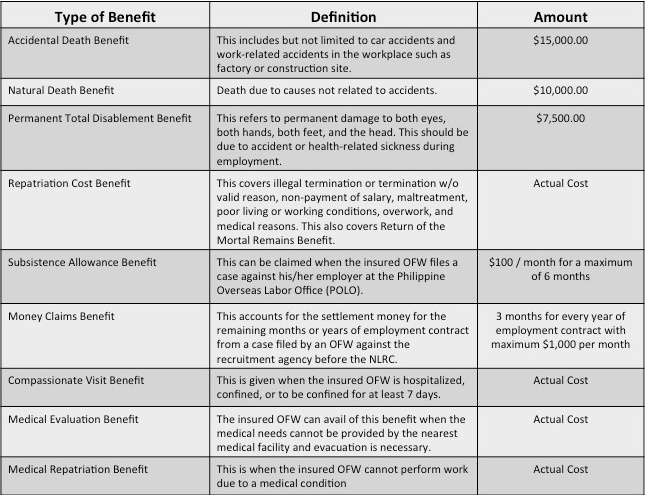 5. Here's how to file a claim for Agency-Hired OFW Compulsory Insurance:
OFW, the beneficiary, or OFW's recruitment agency must notify the Agency-Hired OFW Compulsory Insurance provider. The telephone number of the insurance provider can be found in the OFW's contact card or proof of cover.
The recruitment agency must assist the OFW in processing the claims.
Fill out the Claim Form provided by the insurance provider.
Submit the necessary documents to the insurance company. This could be Death Certificate, Medical Certificate, Medical Report, Police Report, and government-issued IDs necessary.
The insurance company will evaluate the claim and establish the amount due.
The insurance company must pay the OFW/beneficiary within 10 days from filing of complete documents.
6. The Insurance Code does not specify a minimum or maximum amount of insurance premium. This encourages competition among insurance companies for bigger savings and better insurance services.
7. The recruitment agency should pay for the insurance premiums and not the OFW. The OFW should not, in any way, pay for the insurance premium whether directly or as salary-deduction.